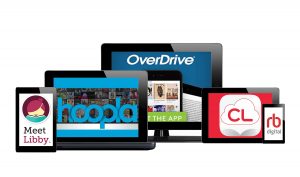 Whether you want to learn how to download the library's ebook and eaudiobook apps or you just need to learn how to use your tablet or phone, reference librarians are available to help. Just sign up for one of the classes below:
Appy Hour
Come learn more about the free apps available from the St. Tammany Parish Library. Bring your device, password, library card, and questions. The apps to be demonstrated include Cloud Library, Libby, and OverDrive, which offer eBooks and eAudiobooks; Hoopla, which offers eBooks, eAudiobooks, comics, music albums, movies, and TV shows; as well as RBdigital, which offers digital magazines.Registration is recommended but not required.
Abita Springs Branch
Causeway Branch
Covington Branch
Lacombe Branch
Slidell Branch
---
BYOD: Tablets

Have a device you don't quite know how to work? If your tablet is leaving you confused, then check out this session. A reference librarian at the Slidell Branch will be showing patrons how to use their tablets. Learn how to download apps, adjust your settings, and more.
Slidell Branch
---
Smartphone Basics
Have you recently purchased a smartphone? Are you not certain how to use this mobile technology? During this class a reference librarian will go over what a smartphone can do for you.
Madisonville Branch
April 9th from 10:30 - 11:45 p.m.
Slidell Branch
March 29th from 10 - 11:30 a.m.
April 26th from 10 - 11:30 a.m.
---
Tech Talk

Are you a self-described Luddite? Are you frustrated with your computer, tablet, or phone? Do you struggle to keep up with technology that seems to be constantly changing? Do you want to learn more about a particular technology, computer upgrade, or app? Don't worry, you aren't alone! Join the Mandeville reference librarian on the fourth Tuesday of the month to discuss all of your technology woes and interests.
Mandeville Branch
---