Join Us In Congratulating Our 2020 Employees of the Year!
The St. Tammany Parish Library recently announced its 2020 Employee of the Year award recipients. The awards are a highlight of the year because each winner is nominated by their co-workers.
Cathy Badon, Full-time Employee of the Year, assists the library's Children's Services Coordinator to accomplish the many behind-the-scenes tasks needed to keep the department running successfully. She has worked for the library for two years.
Badon was nominated by her co-workers for her professionalism, skill and cheerful attitude. About the award she said, "I work with so many wonderful and hardworking people. It's an honor to receive this recognition from them."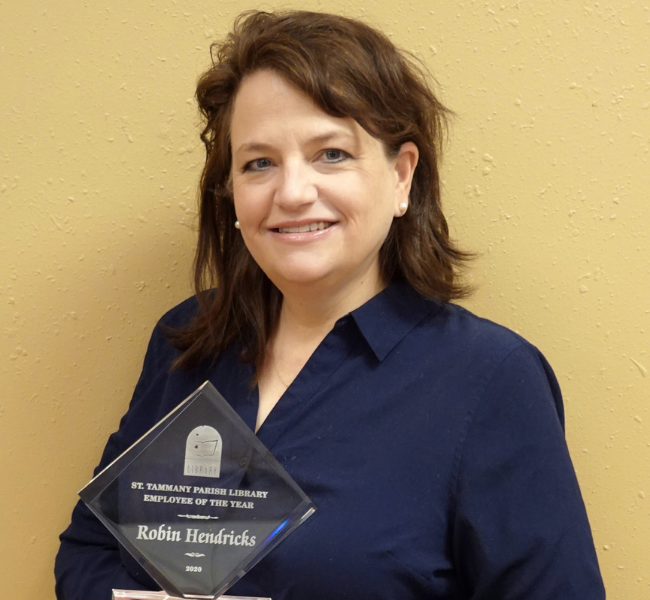 Robin Hendricks, Part-time Employee of the Year, has worked at the Slidell Branch for three years. Known for her kindness with library users and her thoughtfulness with her co-workers, she created masks for all of the Slidell Branch employees and always remembers birthdays.
"I am very honored that my co-workers nominated me and that I was selected for the award. I love my job! It never feels like work when you have a great team to share responsibilities with," said Hendricks.
Librarian of the Year, Jenny Mayer, has worked for the library for 11 years, first as the Mandeville Branch's children's librarian and as the branch's manager for the last eight years. She was nominated for her compassion, creativity, grace under pressure and dedication to the library. Mayer not only works at the library, but she also serves on several committees for the Louisiana Library Association including chairing the organization's Social Media Committee.
About her award, Mayer said, "This award is a great honor. I am thankful for the wonderful staff and patrons at the Mandeville Branch that make my job a joy to go to each day."
Carly Nguyen, the South Slidell Branch's children's librarian, won the Rookie of the Year award. Nguyen joined the library staff in January and became well-known for her picture book rap Facebook videos which inspired librarians as far away as Australia to do the same.
Nguyen was nominated because she "brought joy, smiles and engagement during such an uncertain time." Her nominators went on to say that Nguyen "has the most amazing attitude, seeing any challenge as an opportunity and striving to put her best work forward in any situation."
Please join us in congratulating our Employees of the Year!