COMMUNITY OUTREACH SERVICES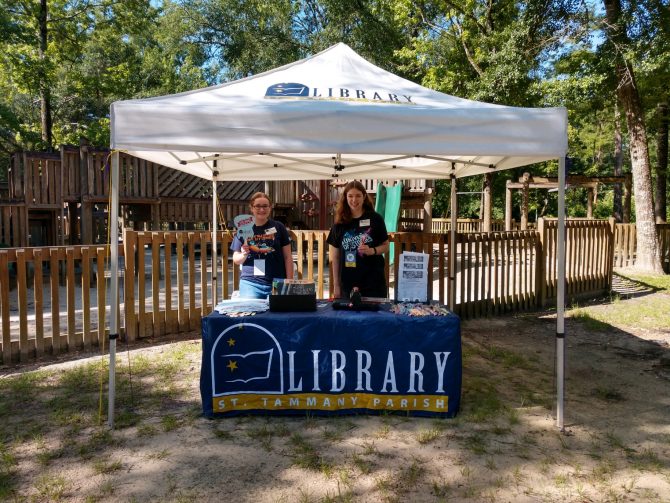 The staff of the St. Tammany Parish Library would be delighted to be a part of your school or community event, talk to your civic organization or provide a library tour to your class. Presentations can be tailored to the needs of the group or event.
To request an outreach service, please fill out the form at the bottom of this page. A library staff member will respond to your request shortly.
---
Types of Outreach Services
Child Care Centers, Elementary and Middle Schools, Home Schools and Camp Visits
Booktalks
Introduction to library services
Hands-on Activities (Ozobot robots, bookmark making using an Ellison machine, dot marker art, etc.)
Special Events (open houses, cultural arts day, etc.)
Storytime
Jr. Highs, High Schools and Home Schools
Lunchtime Books and Bites Book Discussion
Introduction to library services and library tours
Digital literacy, research skills and database training
Open houses and other schools events
Community Event or Festival
Table with library information and giveaways
Hands-on activities (Ozobot robots, bookmark making using an Ellison machine, dot marker art, etc.)
Digital resource demonstration
Pop-up library
Community or Civic Organization Meeting
Overview of the library's offerings and services
Overview of library's budget and finances
Computer, database and research classes
Downloadable services presentation
Senior Centers
Library Materials Delivery
Computer, Internet and email basics classes
Book Club Boxes
Other presentations such as voting information, smartphone basics and engaging in healthcare
---
Library Outreach Request
Library Outreach Stipulations: The school, event or community group must be in or working in St. Tammany Parish. We book on a first come, first served basis, but will do our best to accommodate as many groups or events as we can on the same day. We request at least three weeks notice of your event and can book up to six months in advance.
"*" indicates required fields