April 19-25 is National Library Week when we celebrate library workers and libraries, as well as all of the great resources available from the library. And while we are all home, we hope that you are enjoying Finding the Library at Your Place!
And since we can't celebrate with you in person this week, we thought we would provide you with some books featuring libraries and librarians. We hope you will enjoy these books, but if you are looking for recommendations tailored to your interests, we hope you will Get a Reading Recommendation, opens a new window. Complete the brief form at the link, and a librarian will email you a list of 3-5 books that match your interests. 
All of these titles are available in either ebook or eAudiobook form from Hoopla, opens a new window. See the end of the post for a list of titles available through Overdrive, opens a new window and CloudLibrary, opens a new window. If you need help accessing the library apps, email reference@stpl.us or if you are having trouble with your passwords, you can email acctproblems@stpl.us. If you need a library card, visit the Temporary Library Card Request, opens a new window page to fill out an application.
(eAudiobook available from Hoopla)
At first glance, Josh Hanagarne seems an improbable librarian. He stands 6'7", competes in strongman contests, and was diagnosed in high school with Tourette's syndrome. But books are his first love—Josh's earliest memories involve fantastic adventures between the pages of Gulliver's Travels and a passionate infatuation with Fern from Charlotte's Web. The World's Strongest Librarian illuminates the mysteries of this little-understood disorder as well as the very different worlds of strongman training and modern libraries. 
(eBook and eAudiobook, opens a new window available from Hoopla)
Inspired by the true blue-skinned people of Kentucky and the brave and dedicated Kentucky Pack Horse library service of the 1930s, The Book Woman of Troublesome Creek is a story of raw courage, fierce strength, and one woman's belief that books can carry us anywhere - even back home.
(eAudiobook available from Hoopla)
This is the story of Clare, a beautiful art student, and Henry, an adventuresome librarian, who have known each other since Clare was six and Henry was thirty-six, and were married when Clare was twenty-three and Henry thirty-one. This is impossible but true, because Henry is one of the first people diagnosed with Chrono-Displacement Disorder. Despite Henry's time travel, the couple attempts to live normal lives, but all of this is threatened by something neither can control.
(eBook available from Hoopla)
From the author of The Silver Linings Playbook, this funny and tender story about family, friendship, grief, acceptance, and Richard Gere is an entertaining and inspiring tale that will leave you pondering the rhythms of the universe and marveling at the power of kindness and love. For thirty-eight years, librarian Bartholomew Neil has lived with his mother. When she gets sick and dies, he has no idea how to be on his own. Believing that Richard Gere is meant to help him, Bartholomew awkwardly starts his new life, writing the actor a series of highly intimate letters.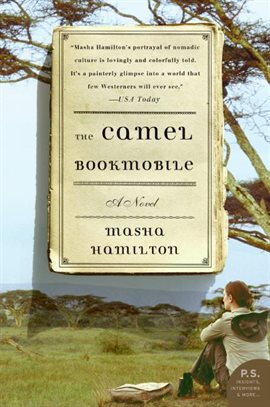 The Camel Bookmobile, opens a new window by Masha Hamilton
Fiona Sweeney wants to do something that matters, and she chooses to make her mark in the arid bush of northeastern Kenya. By helping to start a traveling library, she hopes to bring the words of Homer, Hemingway, and Dr. Seuss to far-flung tiny communities where people live daily with drought, hunger, and disease. Her intentions are honorable, and her rules are firm: due to the limited number of donated books, if any one of them is not returned, the bookmobile will not return.
But, encumbered by her Western values, Fi does not understand the people she seeks to help. And in the impoverished small community of Mididima, she finds herself caught in the middle of a volatile local struggle when the bookmobile's presence sparks a dangerous feud between the proponents of modernization and those who fear the loss of traditional ways.
This list includes nonfiction and a wide range of fiction titles from thrillers to literary fiction and everything in between.