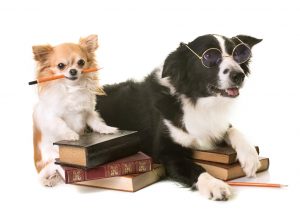 April is stress awareness month—and the end of tax season, opens a new window, how apropos. This time of year, we all need a little stress relief.
Research shows that pets can help reduce stress. Animals provide social support, opens a new window, which can help reduce anxiety in everyone from young children to the elderly. According to a study, opens a new window by NPR, the Robert Wood Johnson Foundation, and the Harvard School of Public Health, 87 percent of surveyed adults said that spending time with their pets helped them feel less stressed out or overwhelmed. Health.com adds that pets can: reduce your stress hormones, lower blood pressure, and help people gain perspective on stressful situations.
Michael Breus in his book The Power of When also advocates for reading for pleasure as a means of stress relief. He refers to a British study where volunteers tried various methods to calm down after exercising and performing strenuous mental tasks to raise their stress levels. Participants listened to music, had a cup of tea, played video games, took a walk, and read a book. All of the strategies were successful but the winner for slowing heart rate, reducing muscle tension, and reducing stress overall was reading. In as little as six minutes stress was down 68 percent. Though Breus does suggest that you avoid anything too stressful, like a horror novel.

So if you need a major dose of peaceful relaxation, why not combine both pets and reading with one of these cozy mysteries featuring cats and dogs:
List created by STPLReferenceMandeville