October 10th is Indigenous Peoples' Day in the U.S. We celebrate Native Americans and their many tribes and cultures across the lands. We have a diverse collection of books encompassing multiple tribes from Hawaii to Mesoamerica, as well as some that appeal to everyone.
This book, told in verse, is a celebration of fry bread, a shared cultural food and its' significance among generations of Native Americans. It depicts a modern family and community while highlighting the importance of an ancestral legacy. The book promotes unity among nations, and shows that fry bread is more than just a food. It's a story of adapting for survival, and resilience among the people. It also comes with a recipe!
Living on the Big Island in her native Hawaii, Claire wishes to see "real snow," but when her father brings the family to a local dormant volcano, Mauna Kea, she's disappointed at its paltry snow offering at the top of the mountain. However, Hawaii has a beauty of nature all its own, and she learns from her family that she can delight in the joys of winter in her own Hawaiian way.
There are other Hawaiian tales, too!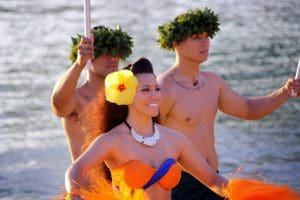 Windy Girl, a young Native Ojibwe girl, loves going to the powwow, a traditional celebration with feasting, singing, and dancing. Her uncle's stories inspire magical dreams and visions of the powwow. One of the traditional dances features a song where the dancers go to different houses and sing "We are like dogs," and this inspires her to see the people attending as dog characters. It shows many things you'd see at a real powwow, such as a drum group and jingle dancers. For non-Native Americans, it's a window into a cultural event.
This is a historical tale of a young Choctaw girl named Martha Tom, who crosses the Bok Chitto river and stumbles upon a slave gathering. She meets Little Mo, a young enslaved boy who escorts her back home and experiences the Choctaw side of the river. They become friends, and when Little Mo's mother is announced to be sold, they realize they have to act fast to help the family escape slavery by "walking on water" to their freedom. It's a story of friendship between races, and it happened locally!
This is based off of an Aztec story about the origin of two real-life volcanoes named Iztaccíhuatl and Popocatépetl. Izta is a beautiful princess who falls in love with a warrior named Popoca. However, her father, not approving of the match, sends Popoca off with an army to war against their enemy, Jaguar Claw, with a promise of marriage if he returns. When it seems like the emperor's army is going to win, Jaguar Claw has the idea to sabotage Popoca's future marriage, and sends a messenger with a potion and a lie for the princess Izta. What follows is an interesting tale about how two volcanoes came to be around the city now called Mexico City.
Presented as a series of class projects, this book introduces real Native American historical topics from the late 1800's to present day in a bid to remind people "the story is not over" and that "We are still around you!" Educational as well as interactive, it presents issues with a positive outlook towards the future and shows the resilience of Native Peoples. It's perfect for middle graders and also good for adults. Additional information in the back offers further reading about these topics.
The author has also written other books.
This is just a small sample of the many Native American books we have!