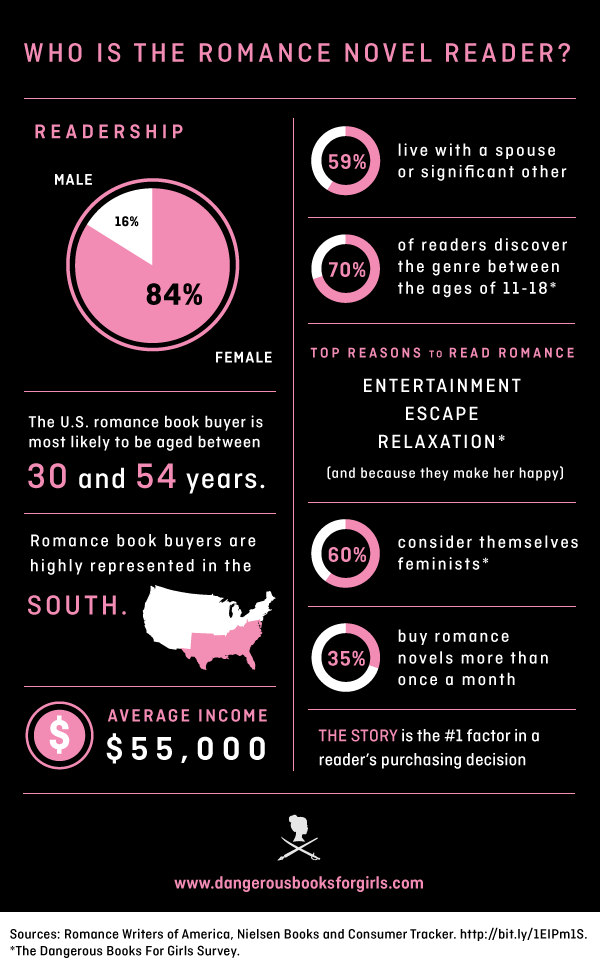 August is Read-A-Romance Month--a time to celebrate the genre of romance novels. And it seems like the perfect time to start a series on romance novels, because if you read romance, you are always looking for a new favorite, and if you don't, maybe you'll realize that you should. There is something here for just about everyone.
The Romance Writers of America (RWA)opens a new window, a nonprofit association, offers the expansive yet generally accurate definition that "two basic elements comprise every romance novel: a central love story and an emotionally satisfying and optimistic ending."
Today there are as many categories of romance novels as there are readers. RWA acknowledges seven subgenres:
Historical Romance
Contemporary Romance
Paranormal Romance
Romance with Religious or Spiritual Elements
Romantic Suspense
Young Adult Romance
Erotic Romance
Over the course of this series, we'll highlight titles in each category. Each post will offer a handful of recommendations in each of the categories. There are so many wonderful books to choose from, but I've included some of the most popular as well as some of my favorites.
RWA recently announced the 2019 RITA award winnersopens a new window. The RITA Award is the highest award of distinction in romance fiction and recognizes outstanding published romance novels and novellas. This list is always a great place to start when you are looking for a good romance. And this seems like a good place to start.
Contemporary Romance Long: Long Shot by Kennedy Ryan
opens a new windowAudiobook available through Hoopla.
Iris meets NBA player August while she's in a relationship with Caleb, an NBA star on the rise, and a violent abuser. Can Iris escape Caleb to find happiness with August, or will their relationship be doomed by her evil soon-to-be ex's presence?
Paranormal Romance: Dearest Ivie

The story of a fiery couple . . . doomed by an undeniable passion. The last place Ivie expects to be approached by a devastatingly handsome male is in a crowded, smoky cigar bar rarely frequented by vampires—yet here he stands. Silas is flirtatious, gallant, and, above all, mysterious. Ivie is anything but. Just as their courtship is heating up, he reveals that it cannot last, for he is bound to return to the Old Country. Their bond only deepens as they make the most of their precious time together.
Romance with Religious or Spiritual Elements: The Saturday Night Supper Club

Denver chef Rachel Bishop won a James Beard Award and heads up her own fine-dining restaurant-- until she is the target of a smear campaign. Alex Kanin was highlighting the pitfalls of online criticism-- and destroyed the career of a perfect stranger. Plagued by guilt, he agrees to help rebuild Rachel's tarnished image.
Contemporary Romance Mid-length: Advanced Physical Chemistryopens a new window by Susannah Nix
opens a new windowAudiobook available through Hoopla.
After four lousy boyfriends in a row, chemical engineer Penny Popplestone swears off men until she can figure out why they keep cheating on her. But her no-men resolution hits a snag when the mysterious and superhumanly hot barista at her favorite coffee shop strikes up a friendship with her.
Mainstream Fiction with a Central Romance: How to Keep A Secret

Lauren, Jenna, their mother, Nancy, and Lauren's daughter, Mack, are not so close. But when they are thrown together for a summer on Martha's Vineyard, these very different women must relearn how to be a family. And while unraveling their secrets might be their biggest challenge, the rewards could be infinite.