Libraries would not be the places they are today if it were not for the hard work and determination of Clara Stanton Jones, the first African-American president of the American Library Association.  Known for being an extremely skilled leader and public speaker, Jones helped to expand library access to underserved groups of people and address misconceptions about what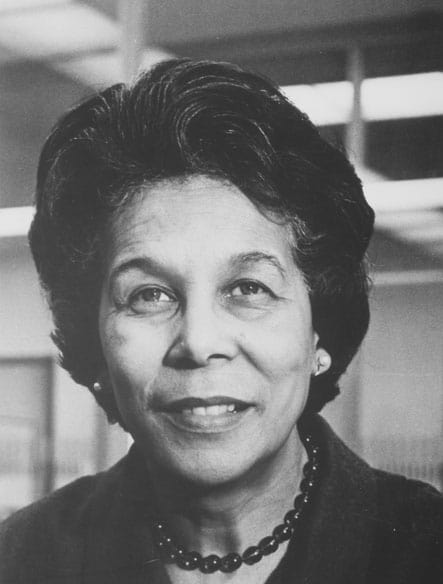 libraries are and who they are for.
Clara Stanton Jones was born on May 14, 1913 to Ralph Herbert Stanton, an insurance supervisor, and Etta Stanton, a school teacher.  The fourth of five children, Jones grew up in a close-knit and loving family.  She graduated from Summer High School in Atlanta, Georgia in 1929, when she was just 15.  She would later go on to obtain a bachelor's degree from Spelman College in Atlanta as well as another bachelor's degree in Library Science from the University of Michigan.  In addition, she was awarded nine honorary doctoral degrees after her major contributions to the field of librarianship.   
A week after she graduated from the University of Michigan, Clara married Albert Jones and moved to Louisiana.  Her career began in earnest here when she became a reference librarian at Dillard University in New Orleans and then the associate librarian at Southern University in Baton Rouge in 1940.  In 1944, her family moved to Detroit where she then began to climb her way up the administration ladder at the Detroit Public Library.  In 1968, Jones became a neighborhood consultant where she promoted the library's programs and services at inner-city churches, community organizations, and schools.  However, she found that a great deal of the people she spoke to did not associate libraries with education.  As many African-Americans in Detroit at the time were from the segregated south, they associated libraries with "whites only" policies.  Jones endeavored to reach these communities with her outreach programs and promotion of library services on the radio and television.  In 1970, she became the first woman director of the Detroit Public Library and the first African-American to serve as director for a major public library in the United States. 
When Jones started working at the Detroit Public Library, she was only the third African-American librarian they had hired.  When she became the director of this system, she was met with a great deal of pushback from several members of the library board and the press.  Two board members and the acting director even went so far as to quit upon Jones's appointment to director.  However, she did receive a great deal of support from the local automotive industry, which was of great economic importance to Detroit at this time.  During her tenure as director, she gained national notoriety through her successes in securing more funds to better serve her community and was invited to join several library associations.  Jones continued to advocate for better library services to disadvantaged people in her new role, and made many noteworthy speeches including "Reflections on Library Service to the Disadvantaged" which was published in American Library Association (ALA) pamphlets.
Jones first ran for presidency of the ALA in 1974, but was defeated by the director of the Tulsa Public Library, Allie Beth Martin.  However, when Martin fell ill and died before the end of her office in 1976, Jones was nominated to the office via petition and voted to be the ALA's first African-American President.  During her time in the position, she strove to make libraries a better place for everyone.  One of her most notable successes was her "Issues & Answers" program which consisted of large conferences of over 1,500 librarians who looked at how they could solve prominent problems that faced libraries.  Jones also passionately defended the ALA "Resolution on Racism and Sexism Awareness, opens a new window" when it was in danger of being repealed. 
Although she faced much adversity, Clara Stanton Jones never stopped working to make libraries more inclusive.  The media was not always kind, but Jones's unwavering resolve won many people over. In fact, when she became president of the ALA, the Detroit News published an article titled "Librarian is Detroit's Pride", opens a new window about how proud they were of their former library director.   You can also search the new "Black Life in America", opens a new window database to learn more about African-American history through original news coverage.