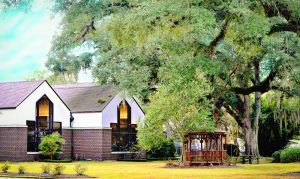 We are delighted to announce that the renovation of the Covington Branch, 310 W. 21st Ave., is nearly complete!
The Covington Temporary Branch will close on January 15 so that the materials in the Temporary Branch may be relocated to the Covington Branch. 
The renovated Covington Branch will reopen on January 27!
The Ribbon Cutting for the Covington Branch will be held at 11 a.m. on Wednesday, February 5. The Grand Reopening Celebration will be held on Saturday, February 8. We hope you can join us!
---
The 31 year-old Covington Branch of the St. Tammany Parish Library will undergo renovation this fall.
The Covington Branch will close on Monday, October 8, with a temporary branch location at 1200 Business Hwy. 190 opening on October 15.
The renovation of the branch will include:
HVAC replacement
Roof replacement
Bathrooms expanded for ADA compliance
Automatic door installation
Carpet replacement
New paint
Refreshed furniture
The renovated Covington Branch is projected to reopen in early 2020.
Floorplan of Renovated Covington Branch
The Covington Temporary Branch will offer:
22 computers for public use
Library collections for children, teen and adults
Large print materials
Genealogy collection
Audiobooks
Reference materials
Fiction DVDs for adults and children
Magazines and newspapers
Wireless Printing.