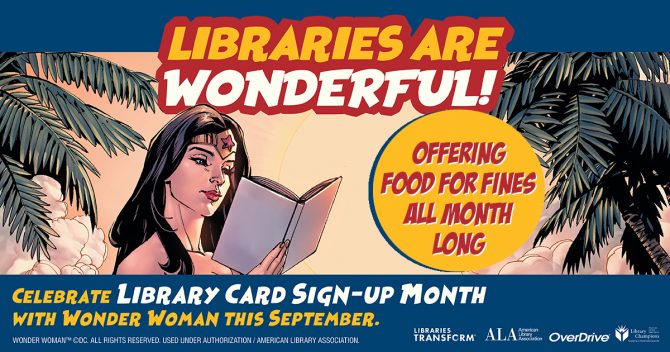 September is Library Card Sign-up Month!
Each year, we celebrate the power of a library card during Library Card Sign-up Month!
This year's honorary chairwoman Wonder Woman invites you to "Lasso a Library Card and Find Your Super Power!"
The library will once again offer Food for Fines to help feed the hungry in our community. With the help of our library users we have donated tons of food to our partnering food banks.
Each non-perishable food item donated will be worth $1 in fine forgiveness. Donated food items will be given to our partnering food banks: the First Baptist Church of Slidell Food Pantry, the Northshore Food Bank in Covington and the Samaritan Center in Mandeville.
To get a library card, you can apply online or visit any branch of the library. Make sure you bring along a photo ID and a proof of address such as a utility bill or voter registration card in your name.
Children can get a library card when they turn five and won't need to show a photo ID and proof of address, but will need to bring a parent or legal guardian with identification along to get a card.
Library cards are free for St. Tammany residents getting their first card. Out-of-parish residents can get a card for a $30 annual fee.
With a library card you can:
Check out books, audiobooks, DVDs, CDs, and magazines.
Download eBooks, eAudiobooks, movies, TV shows, music albums and magazines.
Do online research from home with our online library.
Access your account online to request and renew materials.
Suggest that the library buy new items.
We hope to see you soon!