SUMMER READING CHALLENGE FOR
TEENS AGES 12-18 YEARS
SIGN UP ONLINE ON OUR BEANSTACK READING CHALLENGE PAGE STARTING MAY 28!
Your challenge this summer is earn 720 points of reading and completing fun library activities like attending events and visiting libraries.
Start by creating your reading challenge account on our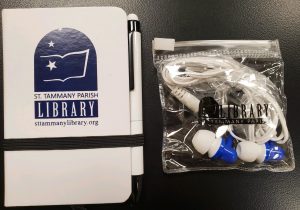 Beanstack page.  When you sign up, you will get a mini-notebook OR a set of earbuds! (Pick up at your favorite branch on your next visit.)
Read whatever you want by August 7 and log in your minutes online. Each minute = 1 point.  Be sure to include the author and title of what you read.  Required reading for school counts - so does magazines, audiobooks, and reading to your siblings! Attend teen events and complete activities for additional points.
720 points wins you an entry into random drawings for a $50 gift card to the St. Tammany Parish retailer of choice.
The Teen Department has planned a fun summer of events - from writing your own tales (Creative Writing Workshop on Monday Tales), cooking (Tasty Tuesdays), art with our artist-in-residence Mrs. Jen (Watercolor Wednesdays) to our thrilling Take OUT Thursdays - We can't wait to see you!  Space is limited, so be sure to register online for these FREE events.
Check back often for updates and active links.