Wahoo, it's Mario Day!
Today marks 41 years since the premier of the world famous plumber as Jumpman in Donkey Kong. All this time later, and Mario is still the face of the video game industry.
Donkey Kong was not the first video game made by Nintendo, but it still became a phenomenal hit for the company. Originally, Shigeru Miyamoto intended to make a game featuring Popeye the Sailor, but Nintendo failed to acquire the rights. Pressed for time, they instead created an original character to scale the skyscraper and save Pauline from Donkey Kong. The arcade game was a hit, spawning the sequels Donkey Kong Jr. and Donkey Kong 3, as well as a new title centered on the jumping man himself.
Nintendo released Mario Bros. in 1983. Now a brother and properly named to boot, players could compete 1 on 1 in a survival race. This game also re-established Mario's profession into being a plumber, instead of a carpenter/construction worker. Another first: Mario's brother and rival, Luigi made his first appearance. Other than being a different color and having a separate name, Luigi otherwise functioned identically to his older brother.
The game that made Mario a household name came out a few years later in 1985 with Super Mario Bros. for the Nintendo Entertainment System. Not only was this a launch title for the new console, it was also a much larger and more impressive adventure. Nintendo released four more such adventures for the system, as well as an ever-growing assortment of other titles, featuring Mario as a playable character. Some of these games included Super Mario Bros.:The Lost Levels, Super Mario Bros. 2, Super Mario Bros. 3, and Dr. Mario.
As time went on, video game consoles became more robust, the video games they played became more detailed and expansive, and Mario increased in popularity and renown. In 1990, Mario starred in Super Mario World, the launch title for the Super Nintendo. He also starred in Super Mario World 2, Super Mario Kart, and a slew of educational games including Mario Paint, Hotel Mario, Mario is Missing, and Mario Teaches Typing. There were even two popular cartoons released around the same time, The Adventures of Super Mario Bros. 3 and The Super Mario Bros. Super Show, the latter featuring wrestling star Captain Lou Albano. Perhaps more infamous, there was also a live-action movie starring Bob Hoskins and John Lequizamo as Mario and Luigi.
1996 marked a standout year for Mario and Nintendo with the release of the Nintendo 64, and another Mario-centric launch title, Super Mario 64. Super Mario 64 was notable for the official introduction of Charles Martinet as the official voice of Mario, as well as his brother Luigi and several other characters. The console brought even more games featuring Mario, as well as a few new franchises: Mario Party, Mario Tennis, and Mario Golf (officially, although there was an earlier game called NES Open Tournament Golf that featured Mario and friends). 
The Nintendo Gamecube marked the first time that Mario did not star in a launch title for a new system; that honor instead went to his brother Luigi in his first major starring role, Luigi's Mansion. Super Mario Sunshine released in 2002 and featured a tropical setting and an unforgettable adventure.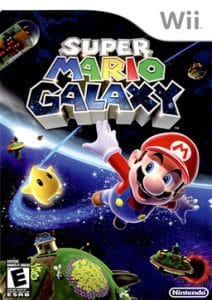 Super Mario Galaxy, released in 2007, was another entry that did not serve as the launch title to the latest Nintendo console, which instead featured Wii Sports and The Legend of Zelda: Twilight Princess. Super Mario Galaxy was a breathtaking adventure with fully 3D worlds that you could run across with 360 degree motion.
2009 marked another innovative entry in the Mario franchise. New Super Mario Bros. Wii released as the 2D Mario game on home consoles since Super Mario World back in 1991. It was also the first Mario game to feature multiple players playing at once.
The latest entry came out in 2017, Super Mario Odyssey for the Nintendo Switch. To date it has sold over 23 million copies.
There are of course many, many more Super Mario games than one could ever hope to list, much less do justice, to in a single blog. Mario himself has been in over 250 different games, and there have been over 750 million games sold, and over $7 billion in revenue. The world's most famous plumber stands head and shoulders above everyone else.
The Adventures of Super Mario Bros. 3

Super Mario Bros. Encyclopedia: The Official Guide to the First 30 Years

NES Classic: The Ultimate Guide to Super Mario Bros.

---
Looking for something else? As always, the St. Tammany Parish Library is happy to offer free use of our online catalog, opens a new window for more information on this and other topics of interest.
Also feel free to check out the rest of the STPL Bloggers, opens a new window. We are always writing about interesting things!
Happy reading!