Covington was founded on July 3, 1813 by John Wharton Collins.  Settlers started migrating to this area in search of economic opportunity, a peaceful tranquil atmosphere, and a chance to start anew in a new area. After a while, the population grew, businesses started flourishing, and the need for educating the youth of the area became paramount.  In 1820, the first school opened in Covington to fulfill the need for formal education.
Covington Female Academy, founded 17 years later in 1837, was the brainchild of businessman Jesse Jones who realized a need for females to have an education.  During the operation of Covington Female Academy, the name of the school and directors changed many times.
Saint Scholastica Academy, founded by the St. Benedictine sisters, opened in 1903.  Boarding students paid $100 for a 5-month session at the Academy.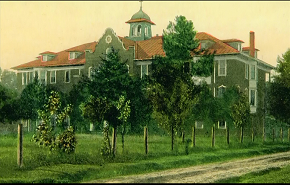 Even though education was important during this period, children also had other family obligations and a typical school year lasted 3 months.
At the turn of the century in 1900, Dixon Academy opened on Jahncke Avenue with 200 day students and 35 to 40 boarders.  The cost for attending Dixon Academy was from $5 dollars to $15 dollars a term.  In 1911, the Benedictine monks bought Dixon Academy and called the institution St. Paul's College.  Pretty soon, the Benedictine monks started concentrating their efforts on a seminary.  The Christian brothers took over St. Paul's College and renamed the school St. Paul's School which is still in existence today.
In 1913, the first public high school opened in Covington.  The high school changed names and locations over the years.  Also, during this time, the school term changed to a nine month period, which was considered a full-time school year.
In 1940, a school was opened to serve the African-American children of the area.  This school was called Rosenwald school. 
Covington Grammar School was another school to serve the youth of the area.  At the present time, Covington Grammar School is the headquarters of the St. Tammany Parish School Board offices on Jefferson Avenue.
The need for education is still important to the residents of St. Tammany Parish with its many public and parochial schools located throughout the Covington area.