The Emancipation Proclamation and the end of the U.S. Civil War were pivotal events in the history of this country that together represented a meaningful step toward a nation where the freedom and civil rights of its Black population were recognized and honored. Unfortunately, however, these goals proved elusive and remained the focus of ongoing struggles throughout the century that followed.
On January 1, 1863, Abraham Lincoln delivered the Emancipation Proclamation, which declared that enslaved people in the secessionist Confederate States were "then, thenceforward, and forever free, opens a new window." However, slavery was not fully and officially abolished until the Civil War ended and the 13th Amendment, opens a new window was ratified in 1865. The period that followed is known as Reconstruction, opens a new window, during which the United States sought a feasible process to incorporate the former Confederate States back into the Union and to assist in their social and economic restoration. There were vehement disagreements in the federal government regarding the best way to achieve this. President Andrew Johnson ended the short-lived land-grants program, administered by the Freedmen's Bureau, that provided plots of land to formerly enslaved Black people; instead, he proclaimed that those lands should be restored to white people. Furthermore, Johnson supported new Southern laws that greatly curtailed the rights of Black people with regard to employment and movement through their communities. In response, the Radical Republicans used their new majority in Congress to pass the Civil Rights Act of 1866 and the 14th Amendment to enshrine Black people's citizenship and equal protection under the law. Then, in 1870, the 15th Amendment was adopted to guarantee the right to vote regardless of race. However, the spirit and intent of these steps were insufficient to elevate Black people's economic and civil conditions. The end of the Reconstruction era, opens a new window in 1877 saw white Southerners reclaim political power, which, along with violence, they used to reassert social and economic control of the Black community. Black disenfranchisement continued far beyond the Reconstruction era.
Jim Crow laws were the predominant official means of maintaining this imbalance of power and privilege. These laws, opens a new window, passed primarily in the South between the end of the Civil War and the 1960s, enshrined expansive racial segregation across virtually all facets of daily life by requiring separate access to public and commercial facilities, public transportation, and housing. Substandard schools and healthcare facilities were established for Black people, who were barred from using the facilities set aside for white people. Interracial marriage was strictly off-limits. A raft of voting laws restricted access to the ballot box for almost all Black people in the South. Predictably, these laws curtailed not only the civil rights of Black people but also their opportunities to thrive and advance in society. In 1896, the Supreme Court upheld as constitutional the concept of separate but equal in Plessy v. Ferguson, allowing legally sanctioned racial oppression to continue for decades.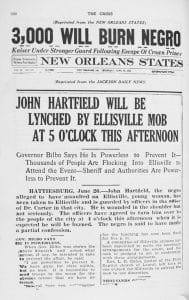 White communities in the American South (and occasionally in the North) regularly used violence as an extralegal means to intimidate and maintain control over Black people. Thousands of individuals--mostly Black men--who were believed to have broken a law or breached social rules were lynched, opens a new window. White mobs apprehended, tortured, and executed Black individuals accused of a wide range of transgressions, opens a new window including sexually assaulting white women, attempting to vote, failing to show expected deference to a white person, or arguing over owed wages, opens a new window. Lynchings were often public spectacles, opens a new window attended by adults and children alike. This barbaric form of terrorism was not only a way to punish an alleged criminal: it also conveyed a threat to the broader Black community about the consequences, opens a new window of fighting against their own oppression.
Jim Crow laws and lynchings inspired a persistent tradition of impassioned civil rights advocacy and activism. One of the most prominent voices in the civil rights movement of the late 19th and early 20th centuries was Ida B. Wells-Barnett. Born into slavery in Mississippi on July 16, 1862, Ida, opens a new window and her family were freed upon the end of the Civil War. Her parents were active in politics during Reconstruction and emphasized the importance of education. Ida attended Shaw University (the present-day Rust College) in Mississippi and Fisk University in Nashville and received her teaching certificate. She began to write and publish about the rampant racial injustices she witnessed and experienced firsthand and ultimately turned to journalism full-time. She turned an unflinching spotlight on lynching through her thorough research, journalistic writing, and public speaking appearances. In the 1890s, she published Southern Horrors: Lynch Law in All Its Phases and A Red Record: Tabulated Statistics and Alleged Causes of Lynchings in the United States, 1892-1893-1894, two of her most well-known pamphlets that revealed in stark detail the prevalence of lynchings and other violent acts against Black people and urged anti-lynching advocates, opens a new window and legislators, opens a new window to engage in the fight against lynching. Throughout her career, she devoted significant effort to other causes as well, including women's suffrage, social justice, and civil rights for Black Americans.
To learn more about the influential role that both Ida B. Wells-Barnett and other advocates and leaders played in advancing Black rights in America, as well as the country's Jim Crow history, check out some of the resources in the St. Tammany Parish Library's collection.
Please Note: In order to bring you new and interesting titles, Hoopla content is updated monthly, and these titles may not be available in the future. To find the latest titles, please visit www.hoopladigital.com, opens a new window.
List created by STPLReferenceCovington