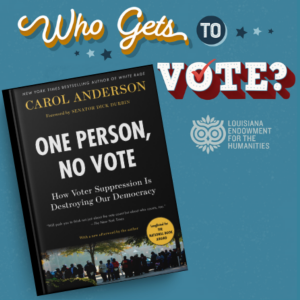 Join us in discussing One Person, No Vote: How Voter Suppression Is Destroying Our Democracy by Carol Anderson as the final installment of the "Who Gets to Vote?" book discussion series at 6:30 p.m. on Monday, April 12. St. Tammany Parish Clerk of Court Melissa Henry will kick off the discussion by talking about the history of voting in St. Tammany. 
Timely and eye-opening, One Person, No Vote reveals how racially-driven voter suppression tactics persist even more than 50 years after the Voting Rights Act of 1965.  This book looks at the role of gerrymandering, voter ID laws, poll closures and more in limiting access to the vote. 
The Louisiana Endowment for the Humanities launched "Who Gets to Vote: Conversations on Voting Rights in America," a new book club program focused on the history of voting—and efforts to suppress the vote—in the United States. Who Gets to Vote has been taking place at selected public libraries across Louisiana and is part of the "Why It Matters: Civic and Electoral Participation" initiative administered by the Federation of State Humanities Councils and funded by the Andrew W. Mellon Foundation.
The event is free and open to the public. Registration is required. Space is limited to adults. Register online to receive the Zoom link to attend.
Visit our website for more information on library sponsored adult programs.