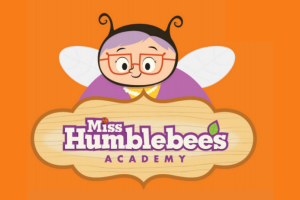 A new year has started and we're kicking it off with brand new and updated online resources! Want to learn what's new at the library? We have an exciting lineup of changes, including new resources for children. Check out our new resources below:
Gale In Context: Elementary -- Did you know penguins can't fly but they are excellent swimmers? Your grade schooler can learn about these flightless friends and so much more with Gale In Context: Elementary! This colorful and easy to use resource is designed for young learners, and provides trusted, age-appropriate digital content about everything from animals and outer space to famous artists and favorite athletes. Interested in taking a peek? You can find Gale In Context: Elementary and other resources for kids in our Online Library.
Miss Humblebee's Academy – This new, interactive online early literacy program brings fun to learning for children ages 3 to 6 and supports Kindergarten readiness.  Miss Humblebee's features appealing cartoon characters that introduce key concepts in math, science and social studies, language and literacy, art, and music.  And, as a bonus, it provides parents with tools to measure their child's progress.  Need to take a break from online learning? No problem! Miss Humblebee's provides downloadable printables and practice worksheets so you can take the fun offline.
World Book Wizard Now Available through World Book Student – Parents and teachers who are trying to conjure up additional exercises and assignments to help their grade schoolers learn science and social studies content can check out World Book Wizard. This learning tool helps students by providing short lessons and quizzes that can reinforce the concepts they are learning at school. To use this resource, you'll need to create a free World Book account. You can check it out by clicking on World Book Student and scrolling down to the Quick Links to select World Book Wizard.
These resources are all available 24/7 with your St. Tammany Parish Library card. If you would like to learn more about these resources, feel free to reach out to a reference librarian by email. We'd love to help you jumpstart 2021 with these wonderful new tools that you can use from home!