Print from anywhere with the SPOT™ Global Print App. 
Printing just got easier with the SPOT™ Global Print App for mobile devices and desktops. Previously, patrons were required to connect to a specific Wi-Fi access point to send files to print. This made it impossible for at-home printing or printing from some mobile devices that were not compatible. Now, patrons can send files from their homes, or anywhere they are on their mobile devices to a branch for the printing queue. Print jobs will be held for 48 hours and will not complete until the patron releases it with their assigned SPOT™ PIN at the branch they sent the print job.
Open the SPOT™ App
Select your Pickup Location

Select 'St. Tammany Parish Library (LA)' from the drop down
Once you have chosen this location, it will become your default choice.

Select your Printer

Choose a branch printer from the drop-down.
**Desktop (Windows/MacOS) apps will prompt users to also pick Color ($0.50 each) or Black and White ($0.10 each) printing as well as duplex or single-sided printing. (In the mobile app and with the Chrome extension, this will be asked when printing).
Send Your Document to the Printer
Click the Print option for the document you wish to send to the printer
Under the Printer options select the library printer you had chosen in the app.
Keep in mind the Color/Black and White print options, below are the prices for each

Color ($0.50 a page)
Black and White ($0.10 a page)

Click Print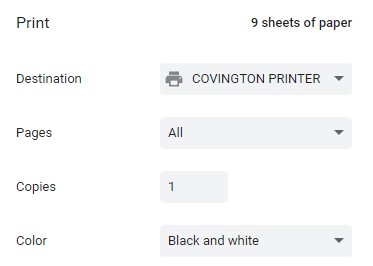 Collect Your Print Job(s)
Head to the library you had chosen to send your print jobs to
Go to the Print Release Station
Enter your PIN
Enter payment (Print Release Stations take only Cash ($1, $5 bills and coins).

Patrons can use their $0.50 daily credit by also entering their patron barcode along with their PIN. Enter the barcode number in the Patron ID field and the PIN from the app in the SPOT™ Global Print PIN field.

You can always review your recent print jobs from the app. Your PIN will stay the same unless you request a new one.
Current Issue with iPhones (as of 6/26/2023)
*Apple is working on a fix for this issue in the app.*
When sending a document to print, there is no option for color, only black and white is available. If you close out of the print screen and reopen it, the color option should be available.
Requirements:
iPhone: Generation 6 or newer and iOS 14.5 or higher
Android:  OS 5.0 or greater