Happy New Year, everyone!
It's that time again when I go through what I read this year and make a list of recommendations for other readers.  I made it a point to read as much as I could this go-around and I ended up with over 220(!) books.  Now, the majority of them were graphic novels because they're something I genuinely enjoy.  However, it's the quality of what you read that matters, and here are some that mattered to me this year.  I hope you enjoy them!
From the juvenile collection!
The Big Bad Fox
A fox who tries (and fails) to terrorize a local chicken farm hatches a plan with the local wolf to grow their own food--by stealing eggs.  But after the chicks hatch and imprint on the fox, it will be difficult to see this plan through.  It's a book filled with energy and fun, a great recommendation for kids who enjoy the comedy of newspaper strips.

Making Friends
Seventh grade is unfair for Danielle.  Her two best friends have been separated from her new routine, and making new friends proves to be difficult.  Then she inherits a magical sketchbook from her late aunt and begins to draw...

This book reads like it was catered specifically to my preteen self.  When one of the characters is the disembodied head of a magical girl villain, it grabs my attention.  If you enjoy stories like Sailor Moon but want a focus more on the school drama over the magical conflicts, this is a book for you.
Tree Mail*
Rudy is a tree frog bursting with gumption and optimism, and he wants nothing more than to be part of the postal service on Popomoko Island.  Thing is, it's staffed entirely by birds.  Of course he'll do everything he can to get in, but will they let him stay?
Rudy is such a positive and determined protagonist, you'll want to root for him on every step of his journey.  Pick this up if you like silly story with heart.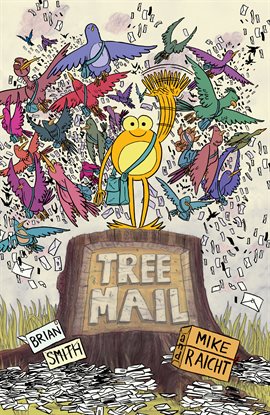 From the young adults collection!
The Adventure Zone
This seems familiar, but not too familiar...
Yes, I'm promoting this series again, but please understand my perspective.  I've listened to the podcast these books adapt, and the campaign captured lightning in a bottle.  The whole thing is 80+ hours of listening time, and that may not be something everyone can manage.  Now there's another way to enjoy this story, and it's available on our shelves.

If you like reading a story of three brothers and their dad "(playing) DnD so hard they made themselves cry," this is a book for you.
Paper Girls
It's November 1, 1988, 4:30 AM.  Four girls on their morning paper routes come across some real weird stuff, even by Halloween standards.  What happens next is the experience of a lifetime.

The less I say about the plot the better, but if you like the adolescent camaraderie of Stranger Things and stories of its ilk, you may want to give Paper Girls a chance.  The books collecting the first 20 issues are available on our shelves, and the rest of the saga is on Hoopla.  Check this one out before it becomes yesterday's news.
Giant Days*
This series about three roommates-turned-best-friends shines a hilarious light on the college experience.  I love the dynamic between these young women and the hijinks that ensue in their academic pursuits.  I love the way everything is drawn, especially the expressions.  And I love that, through it all, these friends remain firm in their solidarity.  Definitely pick this one up.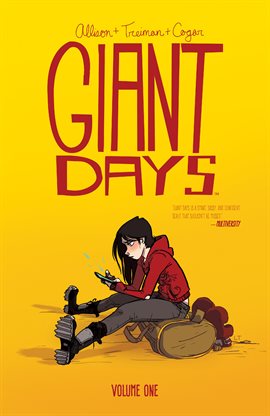 From the general collection!
Grand Theft Horse
This story is absolutely buck wild, and it's all true!  It's the kind of book I stayed up late to finish this past summer, and the contents are still fresh in my mind.  If you like a good underdog story, were ever curious about how horse racing was done, or want to read a story where someone really cares about their horse, then this gets a strong recommendation.

Saga*
When two soldiers from opposing sides of a universe-wide war decide to raise a family, anything and everything will try and break them apart.
I first read this series in 2016, and re-reading the three collected books really pulls everything together.  The series has reached its midway point at this time, and the team behind it is currently on a break, so this is an opportune time to pick it up if you want to know the hype behind this series.  I cannot stress enough that this story is intended for an older audience due to its approach to war, substance abuse, and adult situations, so keep that in mind before you check it out.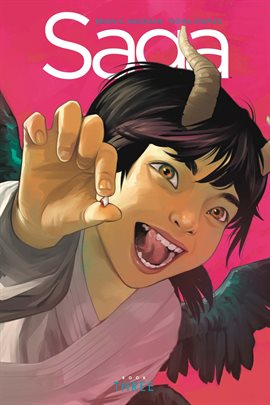 Scud the Disposable Assassin: The Whole Shebang*
When you need to take someone out, you hire an assassin.  When you want it done quickly, cheaply, and with no evidence, you hire a disposable assassin.  Enter Scud, a robot with the single function to kill.  But when he discovers that the death of his target will lead to him self-destructing, he'll do just about anything to not finish the job.
This comic comes straight from the 1990s, with all the wackiness and pop culture references that come with the decade.  Honest to goodness, one of the character's names is a reference to a Phil Collins song, so it plays in my mind every time I see her.  Scud showcases earlier writing by Rob Schrab and Dan Harmon, the action is off the walls, and the long-awaited ending to this story is pretty satisfying to boot.  Check it out if you like your fights with a side of silliness!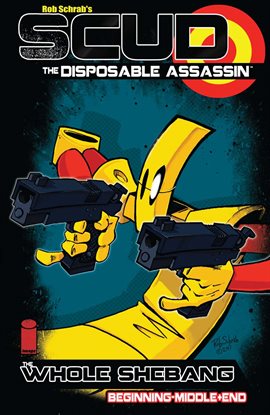 What were some of your favorite reads this year?  Feel free to tell us in the comments.  Thank you for reading, and have a fantastic New Year!