The Financial Gurus
Financial planning is seldom a fun topic, and yet virtually everyone in modern society has financial concerns of one sort or another.
Many people, at one point or another, are likely to find themselves in dire straits at some point. In those dire straits, one is almost inevitably going to be recommended the advice of one of two so-called financial gurus: Dave Ramsey and Suze Orman.
Dave Ramsey is a native of Tennessee. He passed the realtor examinations after high school and made several million dollars in real estate before 1990. After his first financial crunch, during which he was forced to declare bankruptcy, Ramsey tasked himself mightily to improve his financial situation, and decided to spread the tips and knowledge he learned among his friends and family. By 1992, Ramsey published his first book, Financial Peace. In the intervening years, Ramsey has published several more books, made a name for himself with his radio talkshow, The Dave Ramsey Show, and been a regular contributor to Fox Business.
Dave Ramsey is known for having Seven Baby Steps: emergency fund, no debt, expand the emergency fund, invest in the stock market, saving for college, paying off the house, and then building wealth. Ramsey is against debt of all sorts, particularly credit cards, and vehemently opposes their usage. The solution to fixing most financial issues, he argues, is getting out of your current debt, and avoiding all future debt. To achieve this, he advocates his 'Snowball Method', which instructs practitioners to pay off their debts in order of smallest to greatest, while gradually paying them all off. The trend, of course, is once one debt is paid, you can take the money used to pay off said debt and contribute it to the next one, paying that one off even faster, and so forth.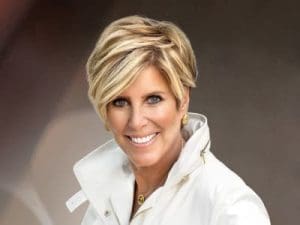 The Money Book for the Young, Fabulous & Broke

Suze Orman spent her formative years in Chicago, the daughter of immigrants. She originally attended University of Illinois at Urbana-Champaign and earned a B.A. in social work. After her first job waitressing, Orman secured the funds to invest for the opening of her own restaurant, only to find said funds wasted by poor investing. Determined to get her money back and educate herself on the ins and outs of investing and the world of finance, Orman worked for both Merrill Lynch and Prudential. By 1987, she left to form her own company, the Suze Orman Financial Group, and began to publish, starting with The Facts on Single Premium Whole Life. Orman has been a regular contributor to Yahoo! Finance, the Suze Orman Show on CNBC and regular appearances on Oprah.
Suze Orman isn't particularly fond of debt either, but where Ramsey refuses to consider any new debt, Orman is a bit more understanding when it comes to the potential uses of credit cards, when managed properly. Further, Orman advertises paying off debts according to the interest rates accrued on them; paying off a debt with 18% interest first rather than one with 4% interest, since the larger interest rate will impact your finances more. Orman is also fairly savvy when it comes to automating personal finances as much as possible so that one does not have to worry about constantly writing or bouncing checks and the bills are always paid on time.
---
There is a lot to be said about both methodologies, but Suze Orman and Dave Ramsey, but these popular individuals are hardly the only financial advisors. There are plenty of other personal finance gurus out there who have something to say about the world of finance. It is always in the best interest of the reader to do as much research as possible and get multiple opinions. A certain method might work just fine for one group of people, but not others. More importantly, you should find what works best for YOU in YOUR situation.
The St. Tammany Parish Library has an expansive catalog covering all sorts of topics, including personal finance, opens a new window. 
Readers can also check out one of our online databases, opens a new window. These are a collection of online resources available through the St. Tammany Parish Library website, many not requiring a library card (though having one is surely useful!). My favorite are the free online courses provided by Gale Courses, opens a new window, though they have lessons on other topics too!
We hope this has been instructive! Happy reading!