Marvel Cinematic Retrospective
Fans today are living in a Golden Age of movies based on comic books. Kids, teenagers, and adults have grown up on the exploits of superheroes since the 1910's, and more recently in film as well. Among the many comic book producers, few were as prominent and beloved as Marvel Comics. It was small wonder that they began to produce movies of their own.
This is a multi-part examination of that effort.
---
So far in our Retrospective, we have covered movies that were part of the Marvel Cinematic Universe, or formed extensive series of their own. Today, we will look at two less prominent heroes who have also left their mark in cinema, for better or worse.
Daredevil originates from 1964, designed by Stan Lee, Jack Kirby, and Bill Everett. Like many superheroes, he is a native of New York City, residing in and protecting the neighborhood known as Hell's Kitchen, in Manhattan. His earliest outings tie him with Spider-Man, a fellow New Yorker, and the two have been acquaintances for years in various media.
Born Matt Murdock, he was the son of a single-father boxer, a hard-working and devoted father who wanted the best for his son. Seeing a blind man in danger while crossing the street, Matt rushes out to save him, only for an oncoming vehicle to crash and spill toxic waste on the poor boy. From that time on, Matt Murdock was rendered blind, but also gifted with supernatural echolocation abilities. Like a bat or dolphin, Matt Murdock is capable of perceiving his environment via sound. Matt's father  passed away shortly after, refusing to throw a fight and being killed by the mafia as a result. Matt swore vengeance against his father's murderers and from that day on began training to fight crime on his terms.
The earliest outing of Daredevil in film was The Trial of the Incredible Hulk, opens a new window, a televised movie based on The Incredible Hulk television show. The movie features the Incredible Hulk (played by Bill Bixby and Lou Ferrigno) as he comes in conflict with the New York mafia and local authorities. Faced with criminal charges, the Hulk is expected to appear in court, where he is assigned defense attorney Matt Murdock. Matt helps the Hulk's alter ego prepare for his pending legal troubles, while the two face off against the mafia as the Hulk and Daredevil. The movie was acceptable to fans, and though Daredevil did not return, future movies movies based on The Incredible Hulk television show came out.
Production began on the Daredevil film in 1997. 20th Century Fox attempted to work on a screenplay, but their contract expired. Following a brief attempt by Disney then Sony Pictures and Columbia Pictures, who would soon start working on Spider-Man, the rights returned to 20th Century Fox in 2000, with actual production being handled by New Regency. Mark Steven Johnson both wrote and directed the film, which featured Ben Affleck as Matt Murdock / Daredevil, Jennifer Garner as Elektra Natchios, Michael Clark Duncan as The Kingpin, and Collin Farrell as Bullseye. 
Daredevil released in 2003, seventeen years ago as of Valentine's Day. The movie was noticably darker in comparison to Spider-Man or X-Men, and focused more on martial arts combat as opposed to the typically fantastic superpowers of the other heroes. Daredevil's signature echolocation provided a clever but muted ability believable for a blind lawyer from Hell's Kitchen. In spite of fan praise and being a box office success, the movie floundered critically, averaging about 44% on aggregate website Rotten Tomatoes.
In spite of this, 20th Century Fox secured enough clout to move ahead with a spin-off/sequel, Elektra. Garner returns as the title character, battling amnesia and isolation while trying to prove herself every bit the martial arts expert her blind master wants her to be. Released in 2005, Elektra did not feature any other returning characters or actors in the final film, although Affleck did film a cameo scene; it did not make the theatrical cut, but is found in the bonus features of most DVD releases. Despite an earnest effort by Garner, Elektra tanked critically and sent the franchise spiraling away.
Daredevil did not return in any fashion until several years later. In 2012, 20th Century Fox released their rights to Daredevil and associated characters, and Disney/Marvel reacquired the property. In 2013, production began on a new Netflix series, with Charlie Cox attached to play the title character. The Marvel Cinematic Universe-linked Netflix Daredevil show was highly praised and spawned further shows based on other characters, including The Punisher, Iron Fist, Jessica Jones, and Power Man. These series' culminated in The Defenders, a one-off series featuring the superhero team-up of a similar nature to The Avengers. Unfortunately it was not to last, and with Disney+ a pending arrival, Netflix canceled all of the shows. As of 2020, Disney and Marvel have since announced plans to integrate Daredevil into the Marvel Cinematic Universe, presumably along with his various Defenders teammates.
---
As early as 1992, Marvel sought out to produce a film on one of their less-known properties, Ghost Rider. Production of the film floundered for several years until Nicholas Cage approached in 2001. A fan of the comics, Cage sought out Marvel and was hired to portray Johnny Blaze / Ghost Rider.
The Ghost Rider debuted in comics in 1972 and immediately proved unusual even by Marvel standards. The Ghost Rider serves as the personal bounty hunter of Mephistopholes, named after the mythological demon. He is charged with hunting down and punishing the wicked, providing them both torment and an expedited ticket to a certain underworld. Johnny Blaze, the first named Ghost Rider and the protagonist to be portrayed by Nicholas Cage, unwittingly accepts the powers at the hands of Mephistopholes' trickery, but later rebels, determined to make the most of his powers and bring justice out.
After the success of Spider-Man, Columbia Pictures procured the rights to Ghost Rider and pushed ahead with production in 2003 and 2004. Due to delays, production did not seriously begin until 2005, by which point Peter Fonda was hired to play Johnny Blaze's demonic overlord, Eva Mendez portrayed Johnny's love-interest Roxanne Simpson, and Wes Bentley signed on to play Ghost Rider's nemesis Blackheart. The movie was set to come out in Summer 2006, but Colombia Pictures and Sony instead opted to push the film to the less-crowded February 2007 slot.
Against a $110 million budget, Ghost Rider made over $220 million, becoming a certified, if not quite beloved, hit. Audiences and critics alike divided over Nicholas Cage and the rest of the actors, but few had anything bad to say about the special effects developed to bring the Ghost Rider and his cursed motorcycle to life. After a few years, and the start of the Marvel Cinematic Universe, Columbia Pictures decided to move forward with a sequel.
Marvel announced Ghost Rider: Spirit of Vengeance in February 2007, before the first movie was even out of theaters. Production properly began in 2010 with Nicholas Cage returning as Johnny Blaze / Ghost  Rider, but noone else from the previous movie. Instead, Mephistopholes returns in a new human guise, Roarke, played by Ciaran Hinds. The Ghost Rider is tasked with protecting a young boy, Danny Ketch (played by Fergus Riordan), from the machinations of Roarke and his new minion, Blackout (played by Johnny Whitworth). 
While Spirit of Vengeance only cost a paltry $58 million budget, it made over $132 million; lower numerically, but with a 27% stronger ticket return. In spite of this, critics bombed the movie and it features one of the lowest ratings of any Marvel movie. As a result, Nicholas Cage decided to park his motorcycle for good and Columbia Pictures ceded the rights back to Marvel and Disney in 2013, with no plans for another film in sight.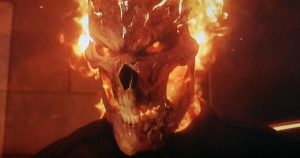 Which isn't to say the Ghost Rider and Marvel are done. Not long after the deal, Marvel Studios decided to fit The Ghost Rider into their current line-up as a recurring character on Agents of S.H.I.E.L.D., opens a new window . In Season 4 of the show, viewers are introduced to a new version of the character, Robbie Reyes (played by Gabriel Luna), who is gifted the spirit of vengeance from Johnny Blaze, who saves his life. For the remainder of the season, Robbie Reyes interacts with S.H.I.E.L.D and teams up with the group to help stop Madame Hydra and other threats.
Marvel attempted to produce a Ghost Rider television show starring Luna as Robbie Reyes to air on Hulu starting in 2020, but said plans have since been canceled. It remains to be seen whether Ghost Rider will return to television or film in the near future.
Stay tuned next time when we cover Marvel's First Family, the Fantastic Four.
---
Looking for something else? As always, the St. Tammany Parish Library is happy to offer use of our online catalog, opens a new window for more information on this and other topics. 
Also feel free to check out our collection of online blogs, opens a new window. The St. Tammany Parish Library Bloggers are always working on new blogs on a variety of topics, so feel free to peruse our collection and see if you find something you like. Happy reading and watching!