Star Wars Day
2023
Happy Star Wars Day again! It's been a while, so here's some more Star Wars for fans from a galaxy not-so-far away.
Looking to catch up with movies and TV shows that have come out recently? In preparation for May 4th, here's a brief run-down, all of which can be found on Disney+, and some available at your local library.
Tales of the Jedi, opens a new window follows the backstories of Ahsoka Tano and Count Dooku, showing some of their formative adventures, and how they became the characters we know and love. This miniseries is pretty short and gives insight into their personalities.
Star Wars: The Clone Wars, opens a new window began as a feature length movie, showing what was effectively the pilot episode of The Clone Wars television show. Originally released prior to Disney's purchase of Lucasfilm, the entire saga is now available on Disney+, including The Final Season, which segues the story right up until the events of Revenge of the Sith, and showing a bit of what else was going on in the Republic's final days.
The Bad Batch, opens a new window serves as a direct sequel to The Clone Wars. In the closing days of the war, Clone Force 99 "The Bad Batch" serves the Republic as one of its best black ops groups. When the New Order is declared, Clone Force 99 and their little sister Omega decide to rebel and form their own little insurrection. They might be the toughest, but can they take on a whole army on their own?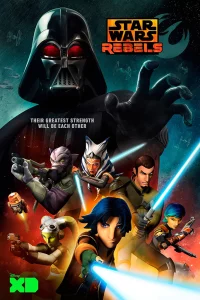 STAR WARS: REBELS takes place between the events of Revenge of the Sith and A New Hope. Ezra Bridger, a young boy from Lothal, has recently been orphaned at the hands of the nefarious Empire. He joins forces with a group of rebels led by former Jedi Kanan as they fight to bring peace and justice to Lothal.
Andor, opens a new window is a very recent show, taking place roughly the same time and covering a very similar theme. Cassian Andor is a rebel and helping stir up trouble right underneath the Empire's nose. Unlike Rebels, Andor is live action and features cameos and major roles from familiar characters, like Mon Mothma.
Oni-Wan Kenobi, opens a new window premiered in 2022 and also takes place around the same time. The mini-series follows Obi-Wan Kenobi in exile on Tatooine as he struggles to come to terms with what has gone on in the galaxy, and what role he has to play in the future. Spoiler warning, it involves a certain movie released in 1977!
Mandalorian, opens a new window hardly needs an introduction nowadays. Our favorite bounty hunter teams up with Grogu (AKA Baby Yoda) and together they explore what it means to belong to something greater, and when it's best to move on. Season 3 is inbound!
Book of Boba Fett, opens a new window is a return to form for the galaxy's most notorious bounty hunter. Can the legendary Boba Fett (played by the multitalented Temuera Morrison) find a new place for himself in the galaxy?
Star Wars: Resistance takes place shortly before the events of The Force Awakens. Poe Dameron is trying to recruit help for the Resistance against the First Order, and he finds it at the Colossus, an airborne refueling station. There, he recruits and forms a new cell, Ace Squadron, who will help defend the station and the New Republic from the First Order.
Star Wars Visions, opens a new window is an original anime-inspired miniseries. Lucasfilm and Star Wars have inspired people all over the globe in the over forty years the franchise has been around. The nine shorts available here were all created in Japan, and while not canon, show just how much Star Wars is loved all over the world. If you want inspiration from a Galaxy Far, Far Away, look no further!
---
Looking for something else? As always, the St. Tammany Parish Library is happy to offer use of our online catalog, opens a new window for more information on this and other topics.
Also feel free to check out the STPL Bloggers, opens a new window. We're always publishing articles on a variety of topics, so check back in to see what's on our mind.
Happy reading!