The Home Alone Retrospective
It's that magical time of year again. For the Winter Holidays this year, we are taking a look at the Home Alone films.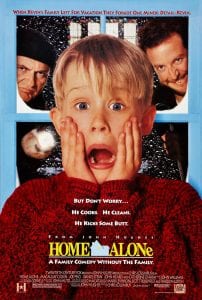 Home Alone began life as a Warner Brothers production under writer and producer John Hughes. Though he promised the produce to film for under $10 million, the budget soon ballooned into $14 million. Warner Bros. was unwilling to continue financing the film, but Hughes did not give up; instead, he turned over a copy of the script to 20th Century Fox, and secured the funding he needed to continue. Hughes signed on the cast, including the film's stars, Macaulay Culkin as Kevin McCallister, Joe Pesci as Harry, and Daniel Stern as Marv. Chris Columbus directed and John Williams signed on as composer.
The film centers on Kevin, the youngest child of his family and almost the youngest in his extended family, as they prepare to go a vacation to France. After getting into a fight with his older brother, Kevin is punished and sent to sleep in the attic, and summarily forgotten by his family when they wake in a rush the next day to leave for their flight. Kevin wakes up hours later, forgotten, and alone in his home. While Kevin is enjoying the house to himself, his family realizes their mistake and rushes back home, leaving Kevin to defend their house from the dastardly Wet Bandits, who are determined to ransack the house. The Wet Bandits fall prey to Kevin's clever traps and are arrested and the house is cleaned in time for the family to arrive home.
While film production costs ultimately reached $18 million, Home Alone became the smash success of the 1990 Holiday Season. The film made over $476 million, an almost twenty-seven fold return. The film also became a holiday classic, noted for its iconic Christmas decor and music. Composer John Williams, as brilliant as ever, earned an Academy Award nomination for the film's signature piece, Somewhere In My Memory.
Home Alone catapulted Culkin to stardom, but it took another two years for his schedule to free up and a second film to be produced. Home Alone 2: Lost in New York featured the return of the main cast, now going on a trip to Florida for the holiday. While he does make it to the airport this time, confusion results in Kevin catching a flight to New York City on accident, where he relies on his wits to secure lodging at the Plaza Hotel, managed by side-villain Mr. Hector the Concierge, played by Tim Curry. Kevin's plan is eventually foiled when Mr. McCallister's credit cards are reported stolen and Kevin runs into the Wet Bandits, recently escaped from prison and determined to seek revenge. 
Against a budget of $28 million, the film made over $350 million; not quite as impressive, but still a certified success.
After the success of Home Alone, John Hughes intended on filming two sequals -Home Alone 2 and Home Alone 3- back to back. Unfortunately, behind the scenes troubles bubbled to the surface in 1994 when Culkin retired from acting and Chris Columbus and John Williams moved on to other projects. Hughes pushed ahead and stepped in to help write the new film. 
Alex Pruitt (played by new child-star Alex D. Linz) is the youngest of three children, and home with the chicken pox. While his parents are working and his siblings are in school (including a young Scarlet Johanssen), Alex notices some strangers snooping around. Little does everyone know, a gang of international criminals are trying to track down a computer chip they were attempting to smuggle. They hid the chip in a remote control car, but their toy was accidentally taken by one of Alex's neighbors, who gives the the toy as payment for doing chores. Young Alex discovers the plot and attempts to foil the bad guys.
Against a much larger $32 million budget, the film only saw slight success at $79 million. Most reviewers lamented the loss of Culkin in the starring role.
Home Alone 3 ended up being the last theatrically released film in the series, but not the final release. In 2002, ABC released Home Alone 4 direct-to-television on their ABC Family channel. The film returns to the McCallisters and the Wet Bandits, but all of the actors were recast. In the film, Peter Mccallister and Kate McCallister have split and Kevin gets to spend Christmas at the mansion of Peter's new girlfriend. Little do they know, the maid happens to be the mother of one of the Wet Bandits, Marv. Marv (who now looks like Harry for some reason) and his girlfriend are out of prison and want to rob the house, so it's up to Kevin to stop them once again.
In the ten years between the next film, parent-company Disney rebranded ABC Family into the Freeform Channel. In 2012, Freeform released the fifth installment, Home Alone: The Holiday Heist. This film stars entirely new characters and actors. Finn and Alexis Baxter -played by Christian Martyn and Jodelle Ferland respectively- are two children who find themselves snowed in during a blizzard. Isolated from their parents, they must defend their home and a mysterious painting from a group of criminals trying to steal it.
Following the purchase of Twentieth Century Fox by the Disney Corporation, one of the first productions they announced was a new addition to the Home Alone franchise. The film released this year and is available on Disney+. 
---
That's it for the Home Alone Retrospective! 
Looking for something else? As always, the St. Tammany Parish Library is happy to offer free use of our online catalog, opens a new window for more information on this and other topics.
Also feel free to check out the rest of the STPL Bloggers, opens a new window. We're always writing new articles on interesting topics, so check us out!