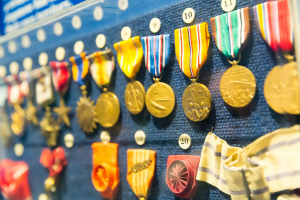 During the month of May, there are two holidays that honor military personnel. Armed Forces Day, which is celebrated on the 3rd Saturday in May, and Memorial Day, which is celebrated on the last Monday in May. Armed Forces Day celebrates those who are currently serving in the five U.S. military branches – the U.S. Army, U.S. Navy, U.S. Marine Corps, U.S. Air Force, and U.S. Coast Guard while Memorial Day remembers and mourns those who died while serving their country.
One of the ways that we can honor those who have served is by learning about our own ancestors who have served bravely and remembering their service as a part of our family's history. The library has a subscription to Fold3, a database that provides access to over 440 million records from the American Revolutionary War up to recent conflicts. It includes military records, stories, photos, and personal documents of the men and women who served.  Fold3 is available 24/7 with a St. Tammany Parish Library card.
If you need help getting started, view our Fold3 video tutorial courtesy of Niche Academy or reach out to a reference librarian. We would be glad to help you learn how to research veterans in your family and document the stories of these brave men and women. For more information about Fold3 or any of the library's databases, visit our Online Library.