Books are an adventure; you're discovering a new world with every flip of the page.  Whether it's in print or on a device, reading satisfies the desire to explore new venues and feeds your curiosity of the unknown.
Which brings me to today's topic--adventures in comics.  The adventure genre is a generous one to use when telling a visual story.  It bends expectation, its scope is cinematic, and the titles mentioned here prove that adventure belongs in the medium.
So let's first talk about this list's highlight, the one I recommend to young readers looking for an adventure--
Bone, vol. 1- Out from Boneville
The Bone cousins are lost, wandering a vast desert.  That is, until an immense swarm of locusts clips them off and brings them to the Valley, a land filled with mystery and an undercurrent of turmoil.
What awaits them is the adventure of a lifetime!  Filled with high fantasy storytelling, comedic hijinks, and intrigue, the entire series and its companion books are all available at the library.  Bone has been the recipient of multiple accolades including 10 Eisner Awards and 11 Harvey Awards.  What an accomplishment!

If that's not enough, there are plenty more adventure comics to read!
5 Worlds- The Sand Warrior
The galaxy is overheating, and the only hope to prevent it is to light the long-extinguished beacons of the planets.  Two chosen ones have disappeared, leaving the clumsy sand dancer Oona Lee to embark on this adventure.  With a cowardly thief and a star athlete in her company, can they save their worlds from a heated end?

Adventure Time- The Flip Side
Jake the Dog and Finn the Human take a quest on the back of the questing board.  What they don't realize is that, unless the opposite of the request happens, the whole land of Ooo will be scrambled up.  Can the two adventurers fix this before things get too jumbled?

Haphaven (available on Hoopla)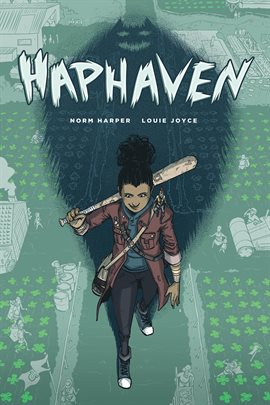 Alex Mills will do anything to avoid a jinx.  But when she steps on a crack and her mom's back is thrown out, Alex will need to travel to Haphaven, the origin of superstitions, to undo the bad luck.
The Road to Epoli
Rickety Stitch is a skeletal bard on a mission to remember who he was.  The Gelatinous Goo is silent, loyal, and does their best for their friend.  In this first volume of the series they get fired from a dungeon job, meet an imp in the woods, and make friends with a gnome in an attempt to capture him.

Rutabaga the Adventure Chef
Some adventurers strive to find lost treasures and slay ruthless villains.  Rutabaga only wants make the best dishes he can.  With his walking pot in tow, join this wandering chef as he uncovers the perfect ingredients for magical meals.

What other kind of adventures do you enjoy reading?  Share your comments below!
Thank you for reading, and check in next week when we look at adventures for teens!