Jazz Fest is fast approaching, with all of its music, food, and fun! If you'd like to celebrate Louisiana and New Orleans culture, the St. Tammany Parish library can help. We have plenty of books about local food and culture to get you in the spirit to party! Hope you're hungry!
Award-winning Johnette Downing is known for her children's music and books about Louisiana. She has performed at the library many times and dedicates herself to fostering children's literacy. We have lots of her great books as well as many others from Louisiana-focused authors.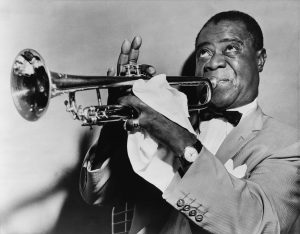 This book is a great introduction to Jazz Fest for children. DJ's mom takes him to Jazz Fest and you get to experience the culture, food, and all the different kinds of music through his point of view.
This book tells you how to make an authentic Louisiana po' boy using pictures in a way that appeals to children. A few "lagniappe" pages in the back give extra information and history about the po' boy, as well as music and lyrics! 
This book illustrates what foods the character, Chef Creole is made out of. They are various Louisiana foods, such as french bread and rice. The lyrics go along with the song "Chef Creole," by its author, Johnette Downing.
Johnette Downing also has a book series entitled Today is Monday in..., showcasing different foods from various states. The books also explain the cultural significance of the foods featured.
The Beignet That Almost Got Away

Two roaches, Ralph and Roxanne, follow the scent of a beignet from Cafe du Monde as it travels in a paper bag through New Orleans. At each stop, they try to get closer to their warm and crispy treat!
In addition to these books, there are several cultural events happening all around us throughout the year!
If you want to see Johnette Downing in person, she will be at Jazzfest on Saturday, April 27th, performing in the Kid's Tent.
And if these books made you hungry and you want to whip up some of these Louisiana classics in your kitchen, Kid Chef Eliana can help in her book Cool Kids Cook.

Laissez les bon temps rouler!